Services
It is said that this day is the best day of your life. But it is so much more than that.
The services I offer range from individual advice hours to planning and organising a luxury wedding lasting several days. Here is an overview:
Proposals
Seminars, lectures and workshops for bridal couples
Advice, coaching, partial and complete organisation
Realisation of wedding ideas
Printed materials (Save the Date, invitations, menus, programme booklets…)
The most beautiful wedding locations
Church, civil and other ceremonies
Music and entertainment
Decorations and floristry
Photography and videography
Pyrotechnic, laser and light shows
Shuttles of various means of transport
Programme design
Supporting programme for a wedding lasting several days
On-site services: professional support, coordination of different services, point of contact for the bridal couple, family and guests
Contact
The dream proposal
Will you marry me? That is without a doubt the most thrilling question in the world.
It's wonderful that you've come to me! You love your partner so much that you've been thinking a lot about how to propose. What to say, where to say it and how to deliver your proposal to make the person you love happiest – and above all, to get the answer 'yes' to the most thrilling question in the world. I completely understand! That is the optimal starting point for us.
People and the things that they love vary massively. Some people wish for a proposal in front of a large audience, others prefer peace and solitude away from any spectators. I promise you that you are awaiting a 'yes' – I have a lot of experience and intuition and can certainly advise you correctly. I have already planned several proposals.
Whether you want a romantic picnic for two or an unforgettable scene arranged in the mountains – I can support you with anything. No one will know about my help if that is what you want. Give me a non-committal call on +43 664 205 30 55 or send me an email. You will see that I am very approachable and understanding.
Our first conversation
In our first conversation we will get to know each other. We will talk about your wishes, ideas and possibilities. It is the basis for a written offer. We can speak in person, over the phone or online.
Duration 50 minutes, cost € 145.00
Wedding advice
You can also make use of individual advice hours and benefit from my experience and tips. I guarantee to help you take the next step with your planning. All conversations are of course also possible online.
Individual Advice: duration 50 minutes, cost € 145.00
Individual advice: duration 30 minutes, cost € 85.00
Other necessary services
As an experienced wedding planner, I know exactly what matters when planning a wedding. I work with professional companies across Europe and I know the most beautiful locations. My many years of experience, together with my curiosity in new and innovative trends, means I can realise the individual dream wedding for every couple.
Many services are involved in a wedding for it to be a success. There is a lot to be aware of in choosing the right company, including qualities such as experience, reliability, flexibility and above all support of the provider. Trust my recommendations of who you should say yes to! Here are the most important areas I can advise you in: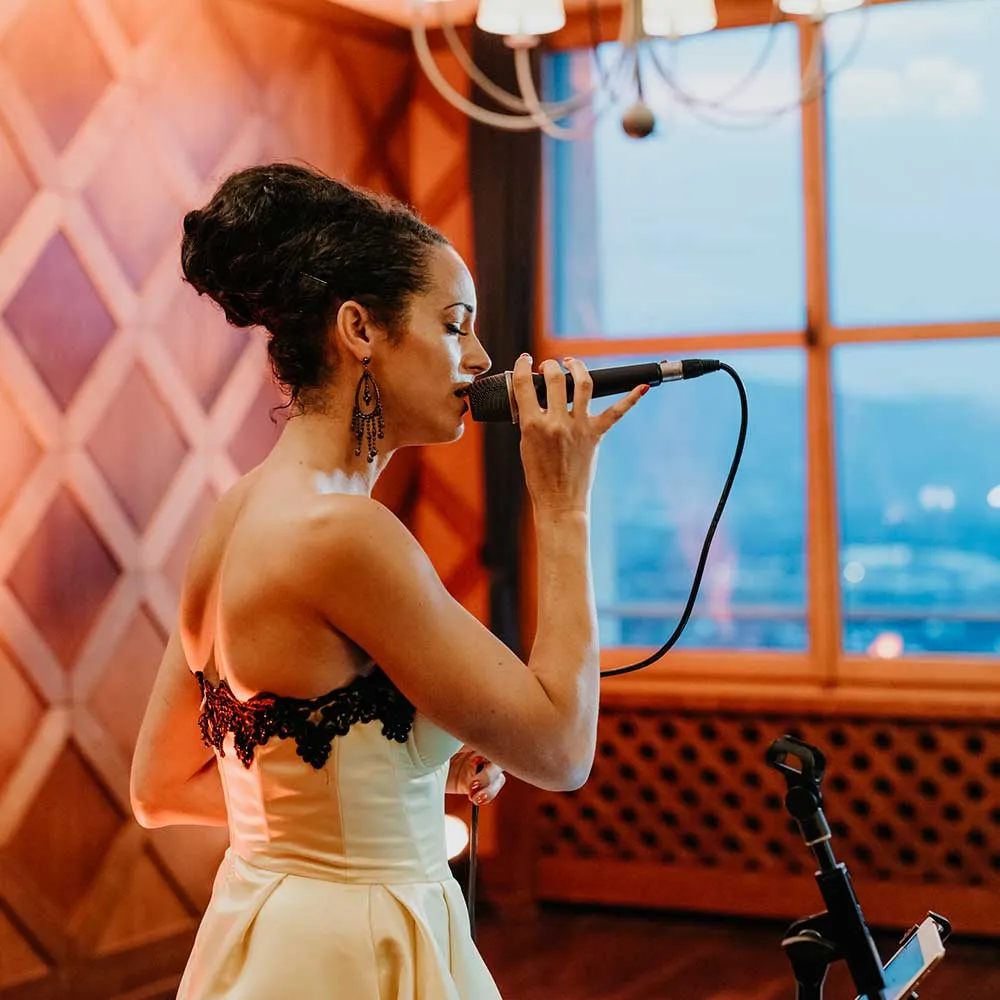 Locations (churches, castles, restaurants, hotels, chalets, cabins and other premises)
Priests for church ceremonies outdoors or in a church
Officiators at civil ceremonies
High quality musicians (singers, choirs, DJs, bands…)
Entertainment services (fireworks, magicians, other artists…)
Traditional entertainment (alpine horn ensembles, accordion players, folk dances, yodellers…)
Wedding floristry and decorations
Photography and videography
Childcare
Shuttle services (horse-drawn carriages, buses, taxis, classic cars, bicycles…)
Pyrotechnic, laser shows and lightshows and much more
 
Wedding coaching
If you would like to organise your wedding yourself but still rely on my years of expertise as a wedding planner, this service is perfect for you. I will give you the security to go about it in the right way by passing on my experience, recommendations and tips that I have developed in my many years working as a wedding planner. That will be invaluable for you. How does it work? We stay in regular contact up to the day of the wedding celebrations. We will constantly discuss the next steps in planning your wedding. I will give you valuable tips and keep an eye on the general organisation. This service is affordable and many bridal couples are happy to make use of it.
Price on application
Organisation
The ideas and dreams of a fairy-tale wedding are a varied as us humans. For one couple the perfect wedding might be a romantic ceremony on the beach, for another couple a raucous celebration in a castle or snow-dusted wedding in the mountains. That makes it even more important for me as the wedding planner to learn your exact wishes. That is the only way to produce a tailor-made celebration in which everything is stylish, harmonious and perfectly coordinated. I will be happy to take care of organising part of your wedding or the entire planning and coordination. You decide the extent of my support. In our first conversation we can talk through everything.
Price on application
Exclusive weddings
When it comes to planning and organising a sophisticated and exclusive wedding, I am an expert. My main skill lies in the preparation of a multi-day, exclusive wedding. That is when I work at my best. My list of Europe-wide contacts is distinguished. I can rely on them all one hundred percent. The success of the weddings I have realised and the feedback of the happy couples confirms this.
However unusual your requests may be, I will try to realise them. I organise weddings with high expectations across Austria, exclusive and guaranteed to be of the highest standard. Whether you want a summer or winter wedding in Lech in the mountains, romantic ceremonies on the lake in Mondsee, known from 'The Sound of Music', raucous celebrations in magnificent castles in Salzburg or Vienna or weddings in traditional farms in Upper Austria.
I offer many advantages for couples from abroad above all. I know the most beautiful locations, the conditions of each place, and all the possibilities to bring the most beautiful traditions and highlights of Austria closer to the bridal couple and their international guests.
Please contact me!